I first came across suspension training around 2009-2010. This was when the TRX system first started to become popular in the UK. The industry has moved on. Suspension training has become even more popular and there are more brands and variations out there. We're going to look at the best suspension trainers in the UK currently.
What Is Suspension Training?
At its core, suspension training is a simple way of adding more variety to bodyweight training with the addition of a couple of ropes or straps.
This allows you to get more support where you need it, change angles, and can set you up for new exercises without any additional equipment.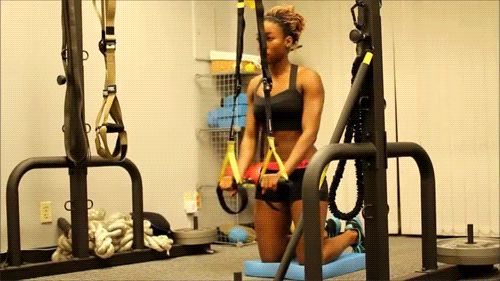 Because you're using straps, your muscles and core have to do a lot more work in stabilising your body so there is an extra challenge added to your workouts.
Some More Background
The TRX is still the best known brand in suspension training. It started in 2005 and like I said, started to gain popularity in the UK around 2009-2010.
But suspension training has been around since well before that time. Training with ropes has been around since the 1800s. And there are some reports that ancient Andean civilisations also used a similar rope system.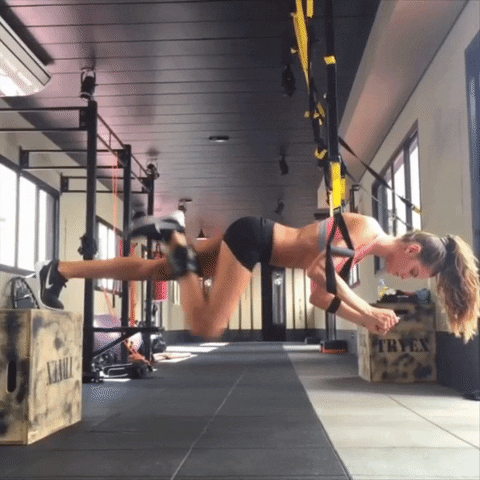 With a certain pandemic and gyms being forced shut, you may have been looking for varied home workouts. Suspension training is a cost-effective and space-efficient way to meet those needs.
And it's something I have turned to for lockdown strength training at home too.
I've tried different brands and kit over my experience so I'm in a pretty good place to make some recommendations.
Best Suspension Trainers In The UK
There isn't a single one-size fits all solution here so I am making recommendations based on specific criteria and from my own experience.
Best All Rounder – TRX Go
I am biased because this is the one I use. The TRX Go has the build quality of a premium product but comes in 30-50% cheaper than other TRX options. It is thin and lightweight, but very sturdy.
At the time of writing, it is the number 1 bestseller on Amazon UK under the category Home Fitness Gyms and has an average 5 star rating.
So it is hard to go wrong with this one.
Check Out The TRX Go On Amazon.com
Best Budget Option – Rhino Sport Suspension Trainer
The Rhino Sport option is great if you are on a tighter budget. It got me through the first lockdown in the UK.
The material in the straps is a bit more "stringy" than the TRX so the clips can sometimes get caught when trying to adjust strap length.
But it is less than half the price of the TRX Go so that is a minor inconvenience. As well as that, the handles are firm rubber so easier to grip, and there are 2 separate straps which is handy for isolating one side.
The TRX Go's 2 straps joined together is a bit more fiddly when trying to do this.
All in all it is a great cheaper choice and if you're not adjusting the straps much, it might be better than the TRX Go for you.
Rhino Sport Suspension Trainer On Amazon UK
Rit Fit Alternative Suspension Trainer On Amazon.com
Best For Keeping It Simple – Gymnastic Rings
To be fair, almost any and every exercise you can do with a TRX, you can do with gymnastic rings.
I have a set of rings as well. To be honest I prefer the TRX for its simple set up and the fact that the handles are easier to hook my feet into. It means I can combine upper and lower body work into one workout.
I can do most of the same with gymnastic rings. But using them as leg supports or holders isn't as simple as with the TRX.
On the flip side, rings are cheaper by around 50-70%. Also as you progress into more advanced calisthenics and gymnastic moves, they will become much more practical and adaptable for you.
Also I'm a bit of a dork and think it feels pretty epic gripping wooden handles instead of soft foamy TRX handles.
Best For Professional Use – TRX Pro 3
If you are going to be a heavy duty user, you'll want something that is fit for purpose. For example, if you are a fitness professional expecting to use a suspension trainer a lot with your clients.
I've already made it pretty clear I am a fan of TRX. The TRX Go is great for home and would probably be ok with heavier use.
But if you're getting serious, the TRX Pro 3 is the one.
It is thicker and sturdier than the TRX Go and has rubber handles. It looks and feels the part.
The main downer is the price – it is nearly double the cost of the TRX Go. But if you anticipate being a heavy duty user, it's probably worth it for the extra strength and resilience.
Check Out The TRX Pro 3 On Amazon UK
Check Out The TRX Pro 3 On Amazon.com

These Are The Best Suspension Trainers In The UK
There may be other suspension trainer options for you to explore. Some will be cheaper or more expensive. But these are the ones that I have tried, tested, and can honestly recommend.
So in my book, they definitely are the best suspension trainers in the UK.
It is worth noting that as with any fitness or exercise routine, having great equipment is only one tiny part of the battle.
One of the best coaches I ever followed used to say when talking about fitness that "an imperfect plan executed perfectly will always beat a perfect plan imperfectly executed".
Having the best suspension trainer in the UK may help you feel like you're getting more out of your workout. But you definitely need to commit and put the work in for yourself first.